The free online streaming of musical performances that stood out in the 2020 Festival programme continues with Alkinoos Ioannidis' Live Looping.
The first part of the performance is a different reading of Alexandros Papadiamantis' novella The Murderess and its tragic title character, Frankojannou. Popular singer-songwriter Alkinoos Ioannidis set the two last chapters of the novella to music. Frankojannou came alive in a rural landscape, inside the Little Theatre of Ancient Epidaurus, through Ioannidis' music, as the latter used a technique familiar to him, live looping, making unpredictable combinations with various musical instruments.
Joining him on stage were Harris Lambrakis (ney, keyboards) and actress Kora Karvouni who narrated the heroine's attempts to jump off cliffs and cross steep paths in an attempt to escape her pursuers. A masterful 'dialogue' between literature and music, narration and sound, bringing together Papadimantis' literary universe with contemporary technology.
In the second part of the performance, Alkinoos Ioannidis presented new arrangements of his most popular songs. Under the starry sky of Epidaurus, the audience sang along beloved songs in an enchanting atmosphere etched in the memory of spectators and captured for all the viewers who will now be able to enjoy it at home.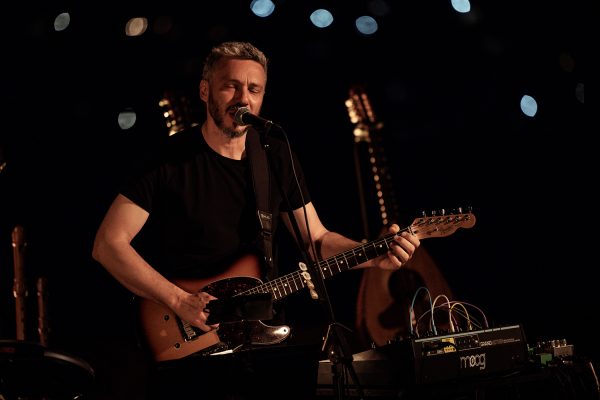 Frankojannou's intense feelings became symbols of memory, reflection, and emotional outburst. The tragic qualities of human existence unfolded next to us and in front of us in the loudest way possible.
(Ta Nea, 20/7/2020)
Not a sound could be heard among the audience. The riveting, humane, emotionally charged work had mesmerised everyone present.
(mixgrill.gr, 19/7/2020)
110 years after Papadiamantis' death, popular singer-songwriter Ioannidis manages not only to move us with the author's language but also to make his work strikingly modern, both through new technologies and the interspersed texts.
(texnesplus.gr, 19/7/2020)
Performers Kora Karvouni narration, Harris Lambrakis ney, keyboards, Alkinoos Ioannidis live looping, acoustic and electric guitar, lute, flutes, electric bass, acoustic and electronic percussion, analogue synthesizer, additional texts, vocals
Sound engineers Vangelis Lappas, Vasilis Drougas
Lighting design Konstantinos Alexiou
Production Roll Out Vision Services
Executive producer Athyr
The Athens and Epidaurus Festival is funded by the Ministry of Culture

Grand sponsor