Subset Festival
New music festival
21-25 June
Curated by Stavros Gasparatos
The Athens Epidaurus Festival at the Athens Conservatoire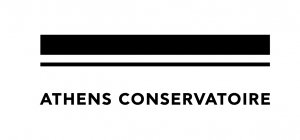 Named after a mathematical term (subset ), the Subset Festival, held by the Athens Epidaurus Festival in co-production with the Athens Conservatoire, brings into dialogue diverse versions of contemporary musical creation and presentation, incorporating a wide variety of artistic works. From 21 to 25 June, the Conservatoire venues will host musical ensembles, sound and visual installations as well as performances, encompassing a multifaceted musical platform. Artists from around the world, established and up-and-coming alike, will present their works in Athens and engage with each other, showcasing a rich musical landscape
The Subset Festival includes two commissions to contemporary Greek ensembles, TETTTIX and Trigger Happy, both of whom are creating new works/installations at the New Stage of the Athens Conservatoire specially made for the Festival. Furthermore, established ensembles and contemporary music artists are participating, both Greek (Ergon Ensemble, MMMΔ & Alem, Saber Rider, Aroent) and international (Robert Henke, Kali Malone, Hekla, Sébastien Roux, Vinyl -terror & -horror, Electric Indigo), some of whom are making their Greek debut.
Special workshops by Trigger Happy, ΤΕΤΤΤΙX, Sébastien Roux and Robert Henke in collaboration with Goethe-Institut Athen.
Welcome to the fascinating scene of contemporary musical creation!
Video Installations
During the 5 days of Subset, two works from the artistic project Freequencies/Free Frequencies will be presented at the Athens Conservatory's Foyer of Arts as part of the Open Plan 2023:
The video art/music work by visual artist Myrto Xanthopoulou and composer Panos Iliopoulos titled In here, lived…

And the musical theatre work by Thodoris Abazis titled With a certain freedom

Trigger Happy
22 June| 15.00
Athens Conservatoire New Stage
Robert Henke
23 June| 15.00
Goethe-Institut Athen
Sébastien Roux
24 June | 15.00
Athens Conservatoire Arts lounge
TETTTIX
25 June | 15.00
Athens Conservatoire New Stage