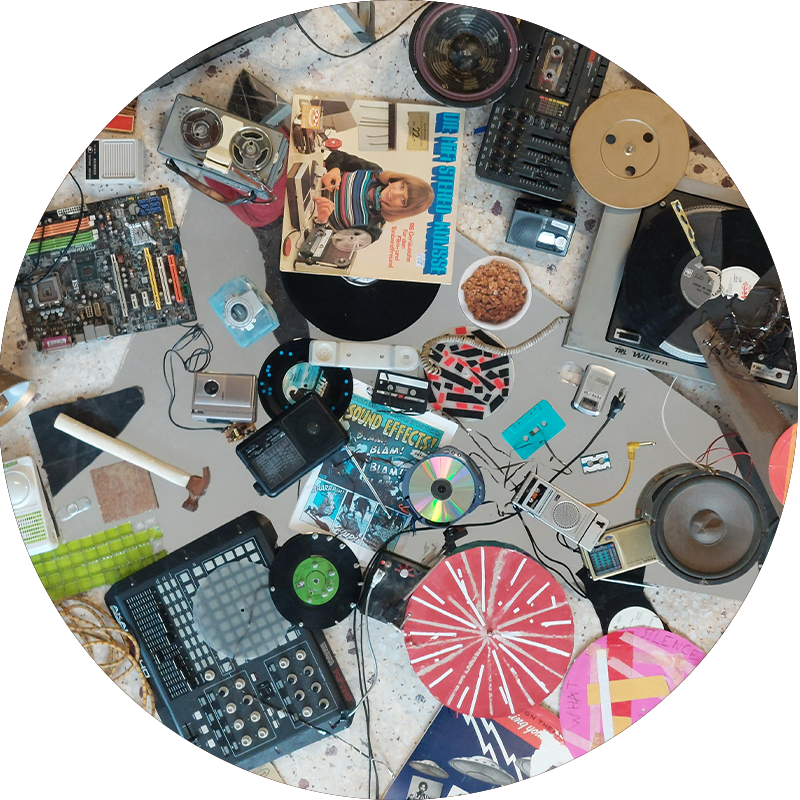 A four-member experimental music ensemble, Trigger Happy were formed in Corfu in 2016. In their concerts, noted for their intense energy, they use a blend of cracked media, conventional instruments, electronic and electroacoustic equipment, toys and objects. Each one of their performances is built upon a combination of verbal instructions, improvisations and pre-planned musical happenings.
Specially designed for the New Stage of the Athens Conservatoire, the hybrid In Media Res (running time: 60΄) is an original sound work presented at the Subset Festival, a collection of analogue and digital sound recording and reproduction media. A study on the reuse and transformation of sound technological means from the past, it is reminiscent of an audio ritual for embodying forgotten and "fallen" media, an exploration of traces of sound via their recording, storage and broadcasting, as well as the very ontology of objects. Opening up a rupture in the linearity of technological development, briefly suspending time, it gives us the opportunity to listen closely to the significance of technological media in both art and life.
The two performances are complemented by an artistic workshop exploring the methodology behind the creation of this work.
TRIGGER HAPPY
Manthos Karras, Georgios Mizithras, Giorgos Stavridis and Giorgos Stenos-Frantzios
Artistic Workshop
22 June
Athens Conservatoire New Stage
15.00