The musical performance Wolves in Wonderland by singer-songwriter Giannis Aggelakas and cellist Nikos Veliotis, the first presentation of the two artists' album of the same title (ALBUM RELEASE CONCERT – PREMIERE JULY 30TH & 31ST), was held at the iconic Odeon of Herodes Atticus. One of last summer's most anticipated and hyped concerts, it was a truly mesmerising experience that was warmly received by critics.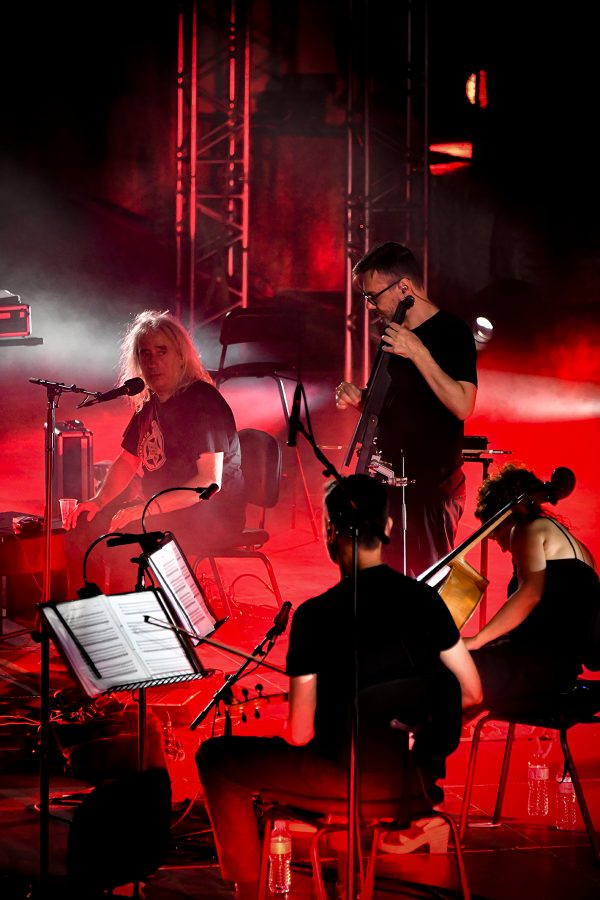 Giannis Aggelakas' collaboration with cellist Nikos Veliotis goes a long way back. Both have created beloved songs over the years. They join forces once again in their new work Wolves in Wonderland, where they select their favourite songs from their adolescence to the present, re-imagining and performing them in a unique manner. On the Odeon stage, they provided a one-of-a-kind journey through the history of Greek music, performing from Vamvakaris and Tsitsanis' rebetika (Vamvakaris' "Blue Windows" was one of the standout moments) and lanmark laika songs by Akis Panos, Stavros Xarchakos and Giannis Spanos (their cover of "Anthropoi Monachoi" was another standout moment) to Theodorakis, Hadjidakis, Savvopoulos, Cheimerinoi Kolymvites, Attik, and traditional songs from Epirus and Crete. They also covered Greek rock songs by Lost Bodies, Thanos Anestopoulos and Pavlos Pavlidis.
By their own admission, the two artists dreamed of premiering their album at the Odeon of Herodes Atticus. The album release concert did them justice, as it was widely considered a great fit for the Roman Odeon. Viewers at home will be able to enjoy their dreamlike, subtle performance and (re)experience one of last Festival's most spellbinding evenings.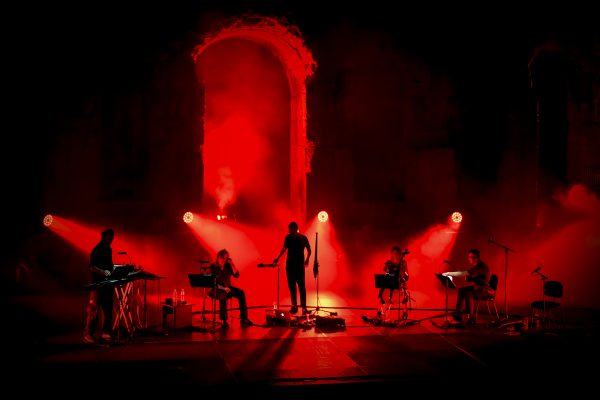 Both the acoustic frequencies of the strings and the electronic frequencies of the keyboards and the computer were reflected in the orchestra and the Odeon tiers in a highly calculated manner, creating an exceptionally imposing, often almost otherworldly soundscape.
 (Huffington Post, 4/8/2020)
Aggelakas and Veliotis conjured one of the most enchanting evenings we have ever experienced at the Odeon. The psychedelic finale couldn't go on long enough.
 (avopolis.gr, 3/8/2020)
An alternative take on Greek songs by two artists who are consistent with their work and trajectory. The repertoire was by far the most intriguing aspect of this performance, including not only the composers' most beloved songs, but also covers of songs that have meant a lot for the duo over the years.
(Musicity.gr, 31/7/2020)
Musicians Giannis Aggelakas vocals, Nikos Veliotis cello, Fotis Siotas viola, Sofia Efkleidou cello, Ilias Baglanis keyboards, Lamprini Grigoriadou vocals
Sound design Giorgos Tachtsidis, Mimis Konstantinidis, Coti K
Lighting design Nikos Kechagias
Production Novel Vox
The Athens and Epidaurus Festival is funded by the Ministry of Culture and Sports

Grand Sponsor