Anne Teresa De Keersmaeker - Jean-Guihen Queyras / Rosas
Mitten wir im Leben sind / Bach6CelloSuiten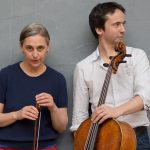 Arguably the greatest living choreographer in the world, Anne Teresa De Keersmaeker presents her own version of Bach's six Cello Suites, only a few days after Yo-Yo Ma's performance. An all-time favourite of Athens Festival, De Keersmaeker, along with four dancers of her world-famous Rosas group, perform for the first time ever at the Odeon of Herodes Atticus to the sounds of De Keersmaeker's favourite Bach, delivering a riveting performance, widely praised by critics as a "magical marriage between Bach and Rosas" and "a sublime moment of grace and beauty." The title refers to "Mitten wir im Leben sind mit dem Tod umfangen" (In the midst of life we are in death), Martin Luther's German translation of a Latin hymn, words which have also been engraved on the tombstone of Pina Bausch.

The Belgian artist founded Rosas in 1983 and has been praised worldwide for her unique, distinctive choreographic style. In 1995, she founded the dance school P.A.R.T.S. (Performing Arts Research and Training Studios) in Brussels. She has numerous accolades to her name, including a Bessie Award (1987), Grand Prix de la Danse de Montréal (2012), the Venice Biennale Golden Lion for Lifetime Achievement (2014), and is also Commandeur de l'Ordre des Arts et des Lettres (2008) in France.

Joining her on the stage of the Odeon is the great French cellist Jean-Guihen Queyras, acclaimed for his musical virtuosity. Critics have described him as a soloist who "performs as he breathes." Queyras, a world-renowned cellist who has been collaborating with major artists for several years, is a regular collaborator of Freiburger Barockorchester and Akadamie für Alte Musik in Berlin, and Carnegie Hall in New York City.
Duration 2 hours
Odeon of Herodes Atticus