PARODOS
Residency at the Little Theatre of Ancient Epidaurus
An interdisciplinary research programme on Ancient Drama, exploring fresh approaches to dramaturgy, stage/scenic forms and creative processes
Since the 1970s, research on Ancient Drama has been focusing primarily on directing and acting. However, as the current era increasingly calls for a fresh perspective on ancient texts, it is important that we reconsider the question of dramaturgy and experiment with new forms. With that in mind, the Athens and Epidaurus Festival launches Parodos, an interdisciplinary residency programme, intent on giving artists with various backgrounds the opportunity to proceed with their research on ancient drama and dramaturgy under ideal conditions and in situ.
The research process will be hands-on and will unfold in two stages: the first stage ('Research') will take place in Athens at Peiraios 260, Hall B (May 2021), whereas the second stage ('Implementation') will be held at the Little Theatre of Ancient Epidaurus (June 2021).
The programme is not aimed at individual artists. Instead, it is intended for a complete group of artists, consisting of a Director, Dramaturg, Composer, Choreographer, and Performers. The group may already be existing or may be formed specifically for the programme and can include up to twelve (12) persons.
Participation is free of charge
The Athens & Epidaurus Festival will offer per diem for group members during the "Implementation" stage. For more information, please see below.
Stefanie Carp
Dramaturgy, Artistic Advisor of the Athens and Epidaurus Festival
Stefanie Carp is a dramaturg and artistic director of the Ruhrtriennale 2018, 2019 and 2020. She holds a PhD in Literature and Theatre Studies on the work of Alexander Kluge. Her close collaboration with stage designer Anna Viebrock and director Christoph Marthaler began in Basel in the late 1980s. She ran the Zürcher Schausplielshaus together with Marthaler before becoming theatre director of the Wiener Festwochen. She has also been visiting professor at the German Institute for Literature in Leipzig and chief dramaturg at the Volksbühne am Rosa-Luxemburg-Platz in Berlin.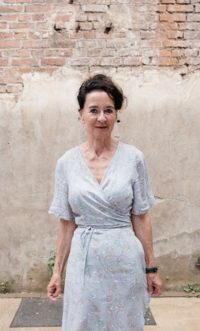 Musical composition & performance
Thanasis Deligiannis
Composer, Director, Performer
Born in Larisa, Greece, in 1983, Deligiannis grew up in a family of traditional musicians. Since 2007 he lives in Amsterdam, where he completed his studies in composition and music theatre. During the years 2017-2019 he was artist in residence at Gaudeamus under the programme Nieuwe Makers by the Performing Arts Fund NL. In 2018 he was assistant to Heiner Goebbels at Manchester International Festival, and he got selected as a maker at Silbersee's atelier Spr!tzl in Amsterdam. In 2017-2018 he worked at the Tanztheater Wuppertal – Pina Bausch Company as a member of Dimitris Papaioannou's creative team. For the years 2016-2017 he has been artistic coordinator of the music theatre research platform RE-FUSE, an initiative of the Greek National Opera in collaboration with Gaudeamus. Thanasis has worked as assistant artistic director for the Nieuw Ensemble from 2011 till 2014 and artistic coordinator of the Atlas Lab from 2011 till 2016. Since 2011 he is coordinator of the Composers' Festival of the Conservatorium van Amsterdam, while since 2018 he is being giving the course Transdisciplinary Approaches. In 2013 he co-founded the Amsterdam-based company I/O together with a team of artists of various backgrounds, focused on the creation of interdisciplinary performances. He has been collaborating as a composer, stage director and performer with music ensembles and theatre companies in Europe, Asia and North America.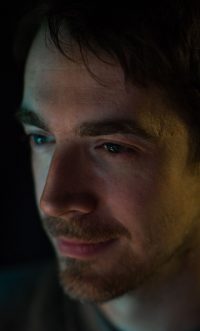 Voice, Rhythm, Polyphony: Technique and Improvisation
Georgia Tenta
Musician, Performer, Musical Ensembles Facilitator
Born in Giannena in 1971. She studied at the State Conservatory of Thessaloniki (Diplomas in Piano, Percussion, Byzantine Music, Graduate Degree in
Georgia Tenta was born in Ioannina in 1971. She studied at the State Conservatory of Thessaloniki (Diploma in Piano, Diploma in Percussion, Diploma in Byzantine Music, Degrees in Theory of Music and Music Composition studies) and in the Department of Music Studies, AUTH.  She has attended a Physical Theater seminar facilitated by John Britton at the University of Huddersfield. She has studied singing and vocal techniques with Savina Giannatou, Mirka Giementzaki, Valia Mavridou and Spyros Sakkas. Georgia is a PhD candidate in the Department of Music Studies at the Ionian University, researching the Greek-speaking polyphonic-singing tradition in Southern Albania. She is a founding member and coordinator of the vocal ensembles Dioni (2004 – 2006) and Pleiades (2006 – today).  Together with the Pleiades vocal ensemble she has performed in Greece and abroad (14th Biennale of Young Artists of Europe and the Mediterranean, Documenta 2017, Summer Nostos Festival 2019, Thessaloniki Concert Hall, Athens Concert Hall, among others), while as a performer, composer, pianist, percussionist, and singer she has participated in various performances and concerts. She has taught Traditional Singing at the Department of Music Science and Art at the University of Macedonia and has worked as a vocal and music coach for many theatrical performances. Her research interest focuses on the relationship between voice and body, and how this can lead to attentive observation of the self and the other and therefore to mutual understanding and collaboration within a creative process.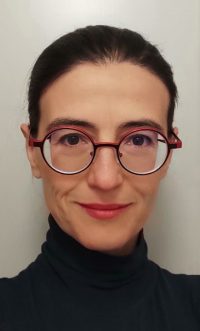 Amalia Bennett
Dancer, Choreographer
Amalia Bennett graduated from the Laban Centre for Movement and Dance in London in 1993. Since then, she has been based in Greece. She worked for 15 years as a dancer and assistant to the choreographer with the Oktana Dance Theatre. Since 1999, she has been working as a theatre choreographer, primarily for the National Theaters of Athens and Thessaloniki. She has also worked in productions for the Onassis Cultural Centre and the Athens Festival. Outside Greece, she has choreographed productions in China, Canada, Italy, Sweden, Slovenia, Germany, United States, Serbia, and Turkey. Amalia has also been teaching movement for actors since 1994. She has worked in the National Drama Schools of Athens and Thessaloniki, The Academy of the Arts in Novi Sad, Serbia, and is currently teaching at the Conservatory of Music and Drama in Athens.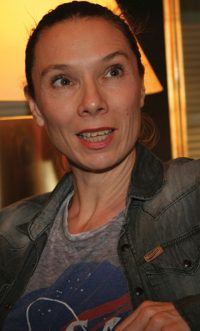 Helene Varopoulou
Theatrologist, Critic
Helene Varopoulou is a theatrologist, translator and essayist. Since 1974, she has been active as a theatre critic and journalist for several newspapers, including Avgi, Proini Eleftherotypia, Mesimvrini and mainly To Vima, for which she specialised in European cultural subjects. She wrote articles for many international magazines and special publications (Drama Review, Theater der Zeit, Théâtre en Europe, Acteurs-Auters, Les Cahiers de la Comédie Française, Alternatives Théâtrales, Performance Research). Her books and texts have been published abroad. She has translated texts of Heiner Müller, Walter Benjamin, Hermann Broch, Goethe, Aeschylus and Euripides. She has taught theatre studies at the Universities of Athens, Patras, Thessaloniki, Frankfurt and Berlin. Varopoulou served as president of the Hellenic Centre of the International Theatre Institute. Moreover, she founded and was artistic director of Argos Festival. Varopoulou also introduced and shaped the Summer School of the National Theatre of Greece. In her capacity as art critic she has curated a series of exhibition at Institut français, Prague, Goethe Institut. She also served as special adviser for the advisory committee of Athens Concert Hall.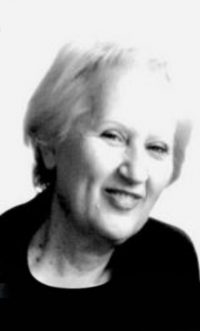 The Athens and Epidaurus Festival will offer Hall B at Peiraios 260 for free for ten days, followed by the Little Theatre of Ancient Epidaurus, also for free, for three weeks.
Peiraios
May 20th  – 31st, 2021
260 – Hall Β
"Research"
•
Little Theatre of Ancient Epidaurus
June 1st – 20th, 2021
"Implementation"
June 19th
Open rehearsal / work in progress & Discussion between the selected group of artists, the mentors, and the Artistic Director of the Athens and Epidaurus Festival.
Attendance of both stages is mandatory. Participants must be fluent in English.
Throughout the research programme, the Athens and Epidaurus Festival will offer participants the following facilities:
Free participation in the entire educational programme for members of the chosen group

Free accommodation of group members at hotels in Ancient Epidaurus during the "Implementation" stage (June 1st – 20th)

Per diem for group members during the "Implementation" stage

Basic sound and lighting equipment for rehearsals at Hall B, Peiraios 260 and the Little Theatre of Ancient Epidaurus

Access to the Athens and Epidaurus Festival wardrobe and props for all costume- and set-related needs

Funds of up to 500 euros for any additional technical needs regarding the final presentation (relevant documents will have to be submitted)
Proposal submission and evaluation
The Athens and Epidaurus Festival extends an open call to groups of artists who wish to submit their proposals, from April 12th to April 30th, 2021.
Proposals will be submitted exclusively in digital form, via email.
To be eligible, submitted proposals must include the following capacities as members of the group: professionals specialised in Directing, Dramaturgy, Choreography, Musical Composition, Performing (actors, dancers, musicians, and so on). The group can include a maximum of 12 persons.
The Artistic Director of the Athens and Epidaurus Festival, in collaboration with the mentors, will select one group of artists. During the programme, group members will be instructed in the study and practical implementation of their own dramaturgical approach of an ancient Greek tragedy by Aeschylus, Sophocles, or Euripides that they will have chosen by then.
Special emphasis will be placed on the research process that is expected to lead to a presentation in the form of an open rehearsal / work in progress, rather than a completed performance. The programme will come to a close with a discussion between the members of the group, the mentors, and the Artistic Director of the Athens and Epidaurus Festival.
Proposal submission by applicants presupposes that said applicants will participate in the programme in person. Transferring participation rights to third parties is expressly prohibited.
Applicants are not required to found/create a joint venture or company in order to submit a proposal, according to the abovementioned provisions. No legal phrasings of any kind are required.
Applications will be evaluated by the inviting Authority. The latter is not bound to provide any specific justifications regarding submissions that will not be accepted.
All terms and conditions of the present open call are essential, binding, and must be observed. Application submission entails the indisputable acceptance of all present terms and conditions.
Ancient text(s) that will be used as the starting point of the research

Additional texts

Additional research material (optional)

Dramaturg's note about the work (up to 500 words)

Director's note about the work (up to 500 words)

Writing sample about a scene of the text, in the form of a draft (up to 3 pages)

Dramaturg's detailed CV
Director's detailed CV

Composer's short CV (up to 500 words)

Choreographer's short CV (up to 500 words)

Shorts CVs of performers (actors / dancers / musicians et al.) (up to 500 words)

Portfolio presenting the work of the group or individual members of the group (up to 3 works)

Contact details of the person in charge of submitting the proposal (full name, telephone, email)
All above information must be included in a single pdf file to be submitted at seminars@greekfestival.gr.
The Athens & Epidaurus Festival is funded by the Ministry of Culture & Sports

Grand Sponsor