Following its successful launch last year, Open Plan, the Athens Epidaurus Festival platform of winter events and collaborations, is now scheduled to return in 2022, encompassing a fresh programme and a series of captivating artistic and educational initiatives. The new set of events will focus on the connections between Art and the world of Fashion as inspired by Ancient Drama, place special emphasis on Theatre and Dance workshops for adolescents and showcase the seductive power of literature adapted for the Radio, built around a series of richly atmospheric "Uncanny Stories".
More specifically, Open Plan will comprise four events, with two of them starting in January.
1) The Morphés Fashion workshop, under the guidance of acclaimed fashion designer Christos Costarellos, in which participants will create garments based on the character of Helen in Euripides' play of the same title.
2) Youthquake, a multifaceted educational programme facilitated by Yota Argyropoulou and the blindspot theatre group that is addressed to adolescents between the ages of 14 and 17, aiming to capture their unique relationship with the contemporary world by unleashing their creative skills. Drawing on the adolescents' concerns, thoughts, reflections, interests, and talents, Youthquake, held from January to April, will culminate in a performance featuring both teenagers and professional actors as part of the 2022 Festival programme.
Shortly afterwards, during the winter season, two beloved Open Plan events will also take place, boasting a fresh form and content: Radio Plays, with a new theme, "Uncanny Stories", under the artistic supervision of Dionysis Kapsalis and the Athens Epidaurus Festival Artistic Director Katerina Evangelatos, and Ancient Future Chorus, the educational dance programme for adolescents by Marianna Kavallieratos.
Last year, the Festival met the demand of Audiences and Artists for original, high-quality theatre amid the pandemic, using radio drama as a springboard – an initiative that was warmly received. The Radio Plays highlighted the talents of several major Theatre and Music artists, while also transcending the physical restrictions of time and space by encouraging audiences to listen from the comfort of their homes. Combining radio drama with speculative fiction, Radio Plays will continue this year as a series of standalone works, bound together by a single concept: five directors will each breathe life into a piece of fantasy literature. Furthermore, like last year, original music will be composed for each of these radio plays.
Meanwhile, the Festival workshop that was facilitated in 2021 by dancer and choreographer Marianna Kavallieratos and her team, aiming to initiate adolescents in the creative "language" of contemporary Dance, will also continue this year. The initiative bore fruit, as it enabled the teenage participants to explore Dance through an experiential approach of Ancient Drama. Using ancient Greek plays as a starting point, the adolescent students, aged 13-17, who will take place in this year's edition of Ancient Future Chorus (renamed from Ancient Future Solo) will be encouraged to create their own choreographic piece. Participants will also work together with theatre researcher Paraskevi Tektonidou. More information on these two events will be announced via press releases later in January.
Participation in all Open Plan events is free of charge
 –
The Athens Epidaurus Festival has ensured all necessary measures against the spread of COVID-19 will be strictly observed during the workshops. In case of emergency measures, the meetings will be held online.
Open Plan is funded by the Hellenic Ministry of Culture & Sports.

Grand Sponsor

Morphés
A fashion workshop inspired by Euripides' Helen under the guidance of world-renowned fashion designer Christos Costarellos
The Morphés fashion workshop that was launched in 2021, fostering a creative dialogue between Fashion and Ancient Drama, was met with great success.
This year, the Morphés workshop is once again held by the Festival, now guided by established fashion designer Christos Costarellos. Euripides' Helen will serve as the source of inspiration for the 2022 edition of the workshop. According to the play, an ironic drama with plenty of humorous aspects, Helen never reached Troy; only a phantom, made in her likeness, did.
Restoring the reputation of the mythical heroine and exposing the futility behind the Trojan War, Euripides tackles the notions of beauty, female identity and dignity, and the fundamental opposites of seeming and being, as reflected in the relation between image and reality.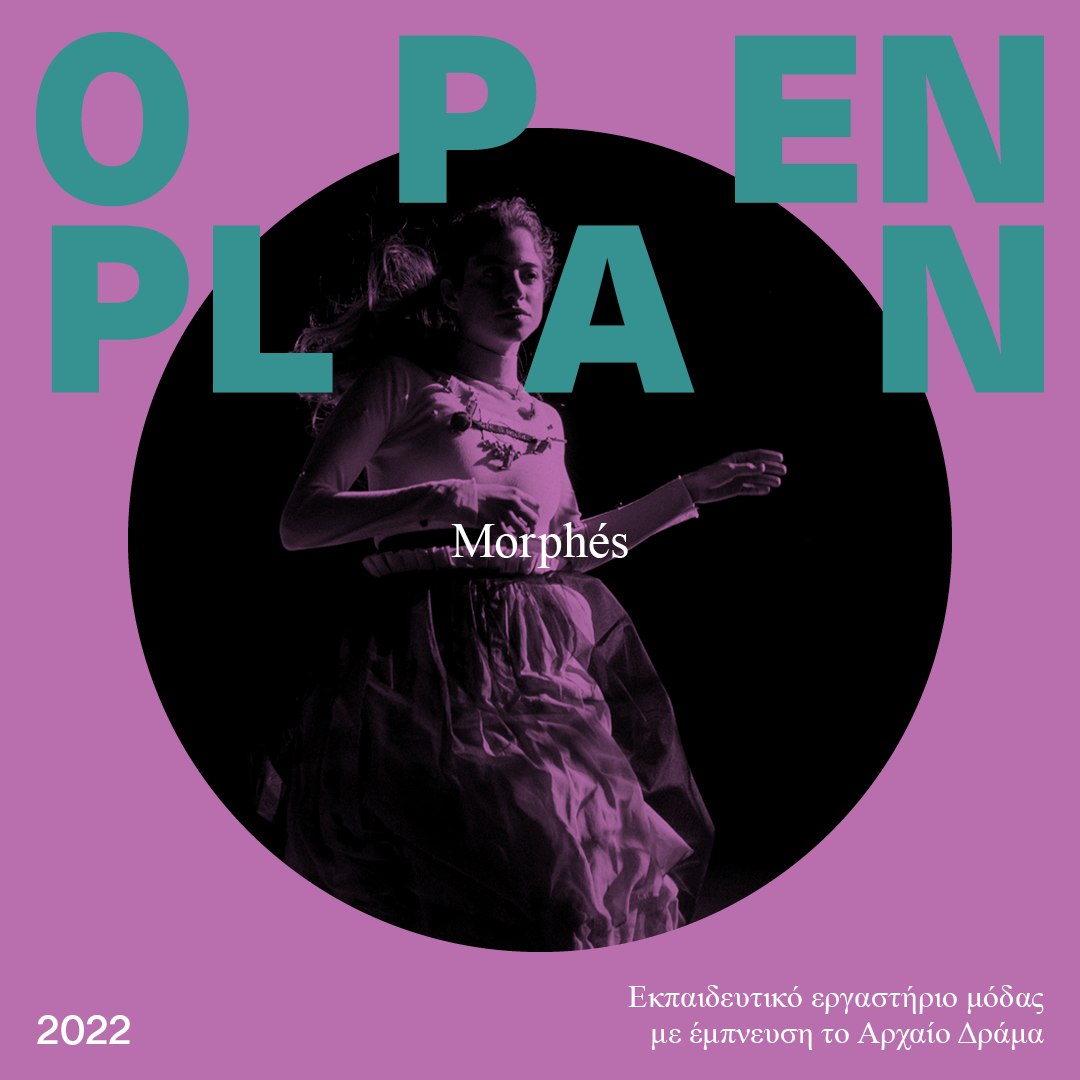 Having studied Fashion Design and Theatre Costume Design at the London College of Fashion, since 1998 the internationally acclaimed Greek fashion designer Christos Costarellos has been creating womenswear at the intersection of Fashion and Theatre. His creations highlight the multiple aspects of femininity in an intelligent and dynamic manner, and are notable for their fluidity, movement, and elegance. In the Morphés workshop, Costarellos will guide a group of participants (previous experience in fashion is not mandatory) throughout the process of creating an original item of womenswear from scratch, i.e. from conceiving an idea to its final execution.
Theatre researcher Elli Gavriil will provide the theoretical framework of the workshop. Other instructors will include theatre director and visual artist Vassilis Noulas, designer Lydia Vousvouni, Vogue Greece creative director Nicholas Georgiou, visual artist Elsa Charalambous, textile industry engineer Maria Manolaki, patternmaker Areti Kominou, and modelist Antigoni Drakou. Theatre researcher and teacher Maria Stavropoulou will assist in the planning and realisation of the workshop.
Read the open call here (in Greek)
CURRICULA VITAE
---
He was acquainted with the world of fashion from a young age, given that both his parents were active in that field. After graduating from the Dimitrelis School of Fashion and London College of Fashion and having numerous collaborations with other houses under his belt, he launched his own brand in the late 1990s. Having founded the high-end Costarellos brand, he rightfully claims a place in the world fashion scene, with his main atelier and production unit in Athens, showrooms in Paris and New York City, a successful presence in the most prestigious Fashion Weeks, and a global network of partners with over 60 selling points around the world, including Harrods, Moda Οperandi, Harvey Nichols, Net a Porter, MyTheresa, Luisa via Roma. Drawing inspiration from the rich Greek heritage and remaining loyal to his mission statement to reinforce the concept "made in Greece", he places special emphasis on the sustainable approach of fashion.
Theatre researcher who completed her graduate studies at the Department of Theatre Studies, University of Athens, with distinction (fellow of the State Scholarships Foundation) and went on to pursue a postgraduate degree in the same department. Gavriil has also graduated from the Set & Costume Design Workshop of the Vakalo College of Art and Design. An alumna of the Faculty of Law, Aristotle University of Thessaloniki, and the European Institute of Saarland University, she has also practiced law in Athens and Brussels.
Stavropoulou studied English Language and Literature at the Aristotelian University of Thessaloniki and completed the "Drama in Education" Master's programme at the Trinity College of Dublin. She attended numerous theatre seminars, including a two-year seminar on theatre education by the Porta Theatre, the theatrical act workshop offered by the Municipal and Regional Theatre of Agrinion, and the "Acting: Theory and Practice" workshop of the National Theatre of Greece.
Υouthquake
An educational programme and performance under the guidance of Yota Argyropoulou and the blindspot theatre group
What are the concerns, thoughts, reflections, humour, interests, and talents of adolescents coming of age in contemporary Athens? How are they affected by everything happening around us? How is their identity shaped? What kind of adults do they aspire to be? How do they wish to change our world for the better? What do they have to share with us? How can we help them express their thoughts in a creative manner?
Open Plan wishes to cause an artistic "earthquake" this year by introducing Youthquake, a multifaceted artistic programme with adolescents in the roles of artists that will culminate in a performance presented at the Athens Epidaurus Festival 2022.
A portmanteau coined from youth and earthquake, the neologism a youthquake refers to a "significant cultural, political, or social change arising from the actions or influence of the young" and was named word of the year 2017 by the Oxford Dictionary.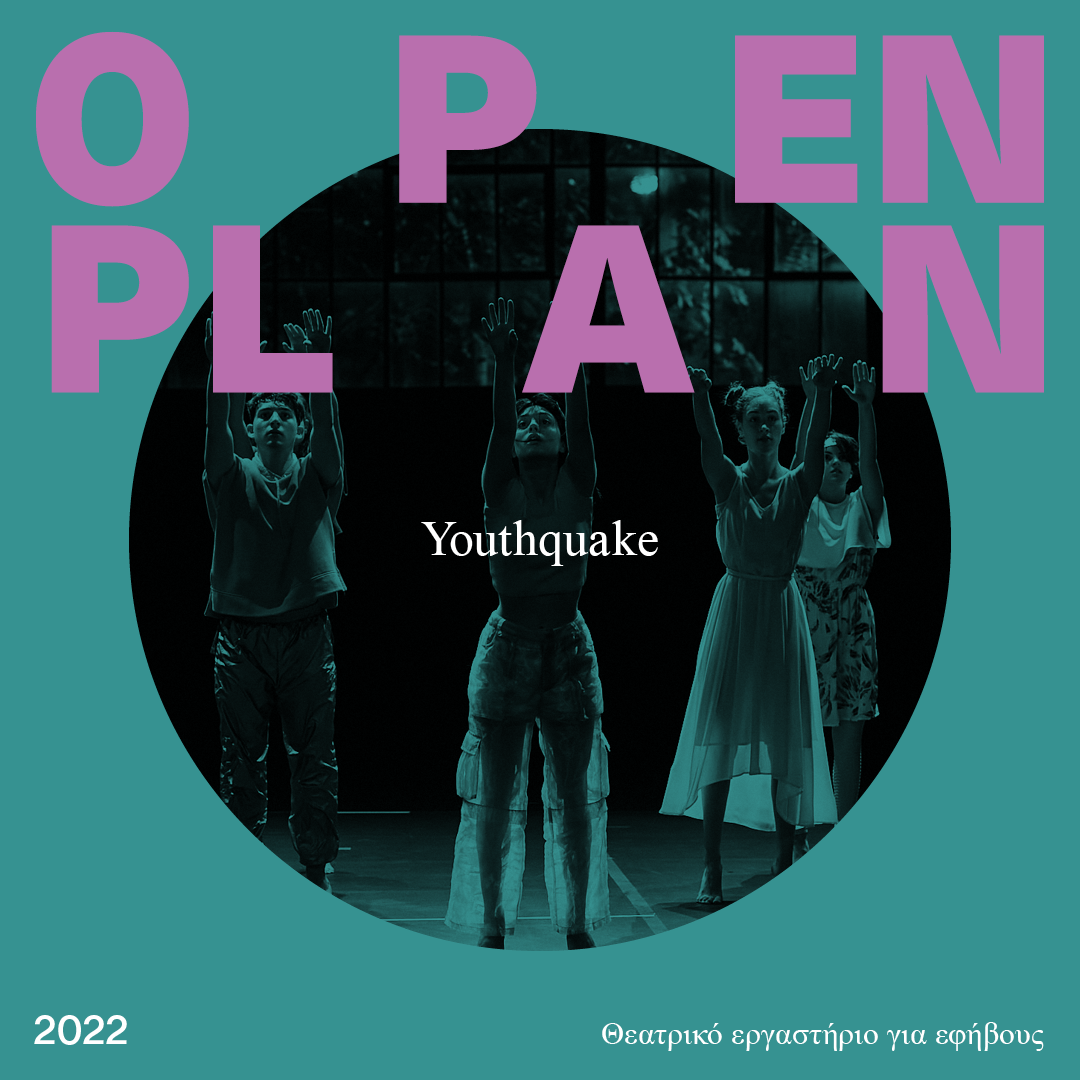 In view of the above, we are inviting adolescents, aged 14-17, who love Theatre, Dance, Music, wish to experiment with video and emerging technologies and are interested in youth activism and social developments, both local and global, to submit their applications in order to meet with the blindspot theatre group and jointly create an artistic, diverse group.
This educational programme has been planned and will be implemented in cooperation with Myrto Pigkou-Repousi, Assistant Professor at the School of Drama, Faculty of Fine Arts of the Aristotelian University of Thessaloniki, specialised in Theatre Education
CURRICULA VITAE
---
Actress and theatre artist. Born in Athens, she studied Acting and Drama at Goldsmiths, University of London, and Art History at the University of East London. She co-founded the blindspot theatre group and has participated in numerous productions of the latter, including Ghosts (Athens Epidaurus Festival, 2018), Hedda Gabler (Onassis Cultural Center, 2015), HOTEL (Athens School of Fine Arts, 2015, and Demetria Festival, 2016), Blink (Oslo's National Theatre, Ibsen Festival, 2017), and X-Tokio (Apo Michanis Theatro and Theaterlandschaft Südeuropa, 2015). She created the solo long-durational performance One Person at a Time for the "As One" exhibition, held by the Marina Abramovic Institute and NEON at the Benaki Museum. She was also invited to participate in the residencies of Zürcher Theatre Spektakel and Onassis Air of the Onassis Foundation.
She has participated in performances held in Athens, Spain, Italy, and Greece (Hamlet, The Storm, Attempts on Her Life, An Oak Tree), films (Before Midnight, All the Pretty Little Horses, Luton) and the film installation The Airport. She has also authored Looking for Holden Caulfield, a stage adaptation of Salinger's Catcher in the Rye (Onassis Youth Theatre Festival, 2016) and the performance Blink. She currently collaborates with the Tavros art space and is a member of the Onassis Air artistic community. Her latest work, Alex(a), was presented as a work in progress at the MIRfestival. She has also held workshops on theatre, performance, and poetry.
Founded in 2009 by actress Yota Argyropoulou and filmmaker Michalis Konstantatos, the group aims to create performances at the crossroads of diverse artistic fields (theatre, visual arts, cinema, music, emerging technologies), thus bringing forth a new aesthetic language. At the same time, blindspot consistently works with groups of adolescents, drawing on its background on education and theatre.
The group's play HOTEL was shortlisted at the 2017 Berliner Festspiele, at the Theatertreffen's Stückemarkt. Their performance Ghosts, inspired by Ibsen's classic play, was presented at the Athens Epidaurus Festival 2018 and Oslo's National Theatre as part of the 2020 Ibsen Festival. Other productions by blindspot include Hedda Gabler, Blink, One Person at a Time, The Fall (2009-2010), based on Albert Camus' eponymous novel, Parklife (2011) at the Michael Cacoyannis Foundation, and Dangerous Liaisons (2020), to name a few. A video piece by blindspot was featured in the group exhibition "The Right to Silence?" at New York's Undercurrent in the autumn of 2021. The group is subsidised by the Hellenic Ministry of Culture and Sports for the period 2021-2023.
Assistant Professor of Theatre in Education at the Faculty of Theatre Studies, School of Fine Arts, Aristotelian University of Thessaloniki. She holds a graduate degree in Theatre Studies (London Metropolitan University, 2006), a Master's degree with distinction in Theatre and Drama Education (University of Warwick, 2007), and a PhD in "Ensemble Theatre and Citizenship Education", also from the University of Warwick. She has studied Acting in the Synchrono Theatro (2002) and at the School of Philippe Gaulier in Paris (2003).
Her research focuses on the connections between performance and contemporary pedagogy, on theatre as form of social intervention and as a medium of social research and public representation. She has taught graduate and postgraduate classes and workshops at the Department of Education of the University of Thessaly, the Open University of Cyprus, and the Department of Theatre Studies of the University of Peloponnese. During 2014-2019 she participated in educational programmes with UNICEF and the National and Kapodistrian University of Athens for refugee children, the United Nations High Commissioner for Refugees, the Refugee Rehabilitation Centre of Piraeus, the Intercultural Education Centre of the National and Kapodistrian University of Athens, the Hellenic Theatre/Drama & Education Network, and the Directorate of Secondary Education in Eastern Attica.