Syllas Tzoumerkas
The Wahncau File
by Elias Maglinis / After Euripides' Alcestis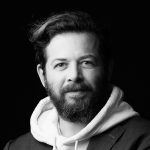 The Wahncau case: a woman was found dead standing upright. The usual rigor mortis was replaced by a rare, instantaneous stiffness. Since we are used to seeing the dead lying down horizontally, resigned of their rights or bereft of presence, this woman seems to be threatening us. Not unlike Alcestis who "returned and did not return, is and is not Alcestis. You could say that she was living and you could say that she was dead". A sun eclipse will cast an uncanny light on a peaceful earth, in the future, on people's faces and temple ruins.

With Greek and English surtitles


---
CONTEMPORARY ANCIENTS CYCLE
New Greek works inspired by Ancient Drama
An Athens Epidaurus Festival commission
Fostering the dialogue between contemporary dramaturgy and Ancient Drama, the Festival continues a pioneering project that was launched in the summer of 2021: the commission of new plays, inspired by ancient Greek tragedies, to contemporary Greek authors who have received praise for their fiction.
This year, three established authors, Kallia Papadaki, Ilias Maglinis and Christos Chomenidis responded to the invitation by Katerina Evangelatos, Artistic Director of the Festival: Kallia Papadaki (European Book Prize 2017 for her novel 
Dendrites
) is inspired by Sophocles' 
Ajax
, the archetypal tragedy on frustration; Elias Maglinis (Greece's State Prize for Literature 2020 for the book 
I Am What I Have Forgotten
) is inspired by 
Alcestis
, one of Euripides' most enigmatic plays; and Christos Chomenidis (European Book Prize 2021 for 
Niki
) delivers a new version of Euripides' rarely performed 
Ion
.
The choice of the first two plays to be staged at the Little Theatre of Ancient Epidaurus is in dialogue with the repertoire of the Ancient Theatre of Epidaurus, where audiences will have the opportunity to watch classical plays in new directorial perspectives (
Ajax
 by Argyris Xafis and 
Alkistis 
by Johan Simons with Schauspielhaus Bochum). We will be introduced to Chomenidis' play with its bilingual publication in Greek and English as part of the Athens Epidaurus Festival theatre book series.
Little Theatre of Ancient Epidaurus
05/08 until 06/08/2022 at 21:30